Fast Food To Dressing... Is This Ok?
Hola a todos, el post de hoy trata de una nueva tendencia: Fast Food Fashion. Y consiste en el uso de ropa, con estampados de grandes marcas en la misma. Esto ha sido impulsado por la colección de otoño-inviero 2014 de Moschino, en la Semana de la Moda en Milan. Aunque la firma también mostró unos atuendos roqueros en su colección, lo que dio de que hablar, fueron sus looks de fast food.
Hello everyone, today's post is about a new trend: Fast Food Fashion. And is wearing clothing with big brand stamped on it. This has been driven by the collection of autumn-winter by Moschino 2014 in the Fashion Week in Milan. Although the firm also showed some rockers outfits in their collection, which gave a lot to talk, were their looks of fast food.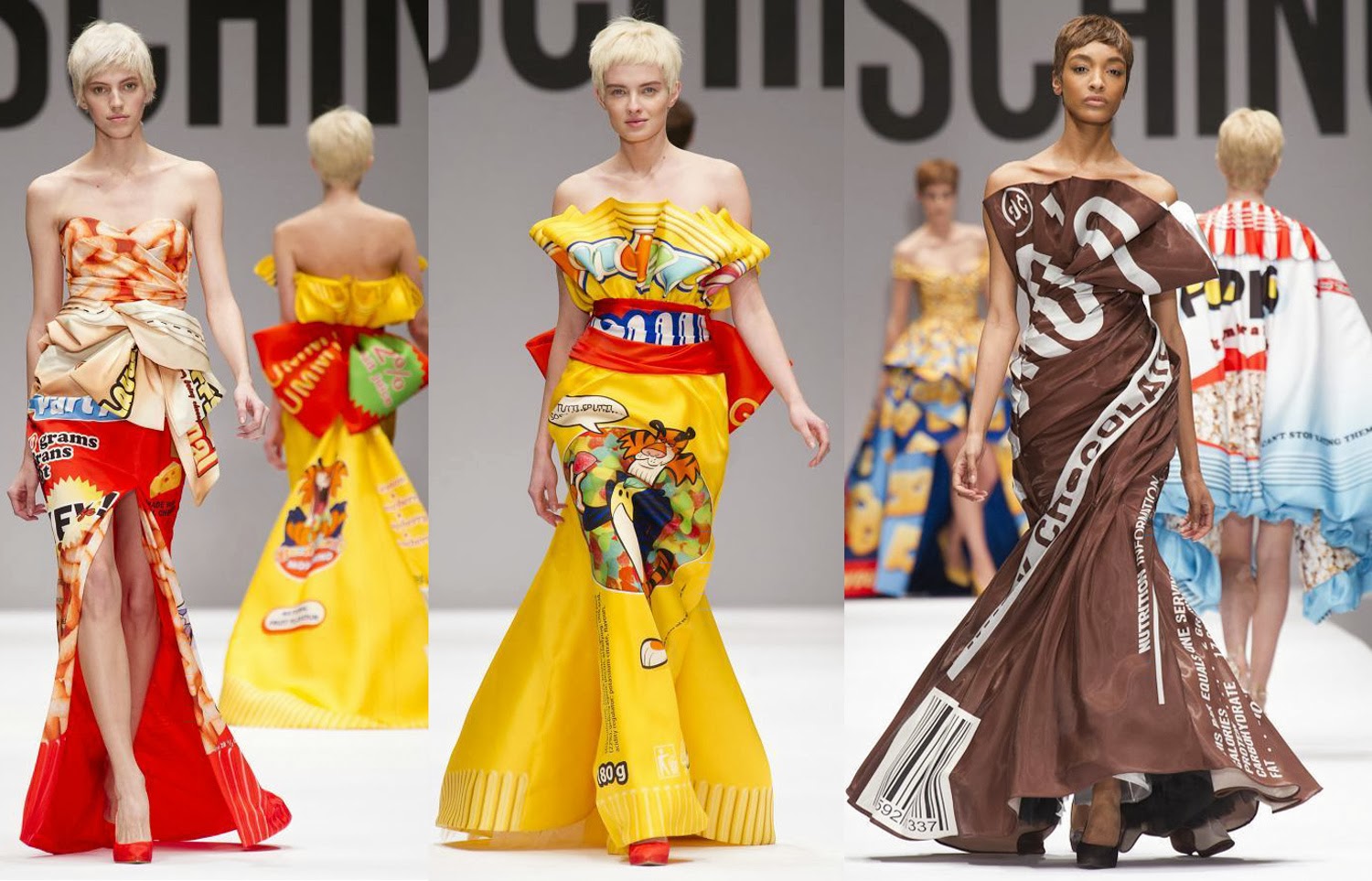 De esta manera, el espíritu rebelde de Moschino presentó prendas con estampados de:

Bob Esponja, McDonalds, Hershey's, Cheetos, Budweiser y otras iconografías de la cultura pop. Sin embargo, el tema de ésta colección trata de

una visión crítica de la sociedad y el consumo.
Thus, the rebellious spirit of Moschino presents garments with prints like: SpongeBob, McDonalds, Hershey's, Cheetos, Budweiser and other pop culture iconography. However, the theme of this collection is a critical view of society and consumption.
Asimismo, ésta colección ha recibido diversas críticas que se extienden desde lo más odiado por la inmensa exageración, hasta ser caracterizada como piezas audaces.
Also, this collection has received various criticisms that extends from the most hated by the vast exaggeration, to be characterized as bold pieces.
No obstante, diversas celebridades como Rita Ora, Katy Perry y la famosa bloggera Chiara Ferragni han optado por el uso del fasd food fashion. Pero ¿Qué piensas ustedes de esta tendencia?
Particularmente no soy fanática de esta tendencia, sin embargo me parece divertida y me gustaría experimentar con ella ver qué tal.
However, many celebrities such as Rita Ora, Katy Perry and the famous blogger Chiara Ferragni have opted for the use of food fasd fashion. But what do you you think of this trend?
I'm not particularly a fan of this trend, however I find funny and I would experiment with it to see how it goes.